| | |
| --- | --- |
| Fuchs Umwelttechnik Air / Fume Extraction | |
Fuchs Umwelttechnik's (Fox Environmental Technology) highly efficient extraction and filtration systems integrate seamlessly into your normal work flow. Each unit is backed by many years of experience and is the product of complete expertise.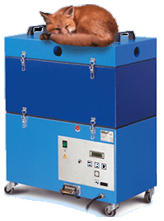 Through individual consulting, a comprehensive, mature product portfolio and Fuchs' 25 years of experience in the development of special systems guarantee a suitable solution for almost every suction and filter problem. Use of state-of-the-art CAD technology and Fuchs' own prototype construction ensure that customers receive the solution that matches the application.
Fuchs' commitment to their customers does not stop at the sale. It continues through to servicing by their specially trained technical after-the-sale organization. Rest assured in the knowledge that the extraction and filter system you purchased will comply with technical requirements, both now and in the future.
Fuchs' continuous development program gives you the assurance that they will continue to provide you with the best possible solutions that conform with prevailing legislation. Stringent, continuous internal tests and inspections ensure consistent quality.
Fuchs Unwelttechnik is well-known for the trouble-free functioning of their products, from short-term duty to continuous duty in industrial applications; a service that extends way past the warranty period.